• http://yala.freevar.com/immortal/index • http://www.angelfire.com/80s/immortal/index •
© T. Yahaya Abdullah
PARADOX LOST
from Immortal Ghosts to Pulse-8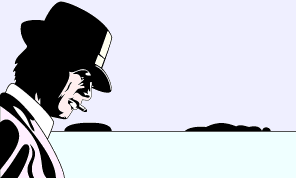 ---

Hi! Call me Yala!.

In the late 70s and early 80s, music was at its most inventive and creative stage. In a rare moment of expression, the musicians rebelled against the commercial music industry in defiance of the pre-packaged nursery-rhyme pop formula. New music emerged from arty experimentalism to dark gothic drones. It didn't matter as long as it was original.

This is the story of 4 different stages of music undertaken by the music bands I was in. Looking back, it becomes evident that these directions were strong reflections of the new music of the time. In the end, we were not commercially successful but, no matter, we are proud of our music. Please read, listen and enjoy! :
• Immortal Ghosts
• 1981'Q4 ~ 82'Q3 •
Steve Brooker & Yahaya Abdullah - diverging techniques and esoteric style
• Bruit du Soir & Autant
• 1982'Q4 ~ 83'Q3 •
Steve Brooker, Steve Morgan and Yahaya Abdullah - combined skills for pop new wave
• Working Days
• 1983'Q3 ~ 85'Q2 •
Steve Morgan & Yahaya Abdullah - directed experience and revisits
• Pulse 8
• 1985'Q3 ~ 86'Q3 •
Jason Kelly & Yahaya Abdullah - merging directions in the new commercial pop music
This site contains audio files of our past music. I've been compiling this music from whatever cassettes (those which can still play) and remastered them using computer and onto CD. I'm not doing this to show off how clever we were or anything. I'm just doing this so that the music is not lost.
BTW, I did have a band in school called Paradox Lost (1979 'Q4 ~ 80 'Q2 : Malvern College, Worcs, UK) which played one concert on 17/May/80 but I haven't any recordings.
---
E-Mail me for any specific information you may need… although I can't promise that I'll reply. And please come back soon to visit.

• http://yala.freevar.com/immortal/index • http://www.angelfire.com/80s/immortal/index •
---
My other websites: