With Steve Morgan joining the Immortal Ghosts, a change of band-name was in order and Steve Morgan came up with "Bruit Du Soir" (supposedly meaning "Night Noise"). Also, someone coined the nicknames Little Steve (Morgan) and Big Steve (Brooker) [only marginal height difference though]. In the few loose jam sessions we had, Little Steve contributed a "pop music feel" to the band.

One day, Big Steve announced that we had a concert in one month's time. We decided that our concert format would include a pre-recorded open-reel tape containing our electronic backing-music. So our first priority was to compose and record that backing track, although we hadn't formalised any music yet. But our young heads were full of ideas and so we took our 2 synths, hired some equipment (open-reel, mixer & TR-808 drum-machine) and then locked ourselves in a City Uni spare room for 3 days to make the backing tape.

In those 3 days, we jammed, wrote, tested, arranged and recorded our music. It's amazing how fast we could convert our ideas into 7 songs and finish their arrangements. Little Steve (Morgan) was quite the budding audio engineer (actually he studied electronic engineering). As soon as a song idea was ready, Little Steve and I would do the synth music and drum-machine programming, set-up the sound and record it almost straight away. We'd do all this, while Big Steve would pen together the lyrics. It was hectic and sleepless… but we had a really great time!

This recording session not only formalised our backing-tape repertoire but it also made evident our performance roles in the band. Atop the backing tape, Little Steve was to play bass and I was to play guitar… but Big Steve (Brooker) decided to drop playing guitar and concentrate fully on vocals. This was the start of a new relationship where Little Steve and I would heavily compose music (with Big Steve mainly doing the lyrics). I didn't realise it then but the Immortal Ghosts was gone forever (such is the price of change).

Thankfully, the backing-tape also served as a convenient source for practice… and we practised a lot… and, on 14/Dec/1982, Bruit Du Soir played The City University's Finsbury Hall. It was quite a big concert and it went down very well with the crowd.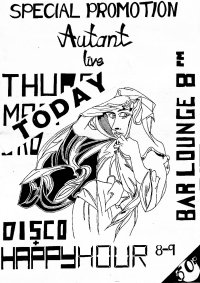 Sometime later, we changed our band-name to "Autant" (vague band-names are courtesy of S.Morgan), added one more song All Our Memories to our live-set, and, on 3/Mar/1983, played The City University's Bar Lounge. I remember that it was a really packed gig and all went well.
The Bruit Du Soir / Autant repertoire is represented here from various sources:-
- How many Times Have I and Forest Lines were recorded at The City Uni's Music School studio (using borrowed down-time!?!).
- Gloss On Gloss was recorded in the The City University "spare-room" using a portastudio.
- Too Much To Me, How Can I Feel You?, I Wondered and Believe In Me are taken from the backing-tape (with guitar added) and hence have no vocals.
- All Our Memories was recorded at my flat in Porchester Square during a rehearsal (just as we finished writing the song).
With the approach of summer 1983, my studies at The City University had finished and I was going to start work later that year. We weren't sure if we'd be able to continue with the band… or even keep in touch. Although we never formally disbanded, the realities of life outside university just kept us apart too long.

• Too Much To Me • 3:48 1982'Q4 backing tape / rehearsal mix 671KB 24kHz 24Kb/s