• http://yala.freevar.com/immortal/working.htm
PARADOX LOST : from Immortal Ghosts to Pulse-8 © T. Yahaya Abdullah
Working Days [1983 - 1985]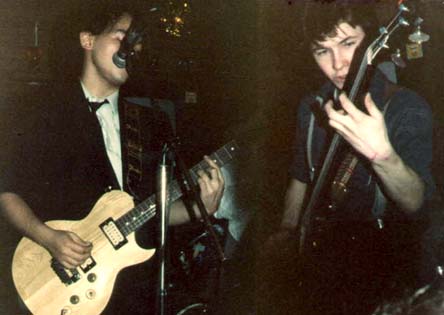 Photo from 1983 - (L-R) Yahaya Abdullah, Steve Morgan.
---
No, there was never a band called Working Days… It's just a title to describe this period of writing and playing music. BTW, I was working then!

1983'Q3 ~ 1985'Q2
Steve Morgan, Yahaya Abdullah
By the summer of 1983, I was already on my solo "Texture On Paper" project. By Sept 1983, I started work and so the band just sort of faded away. On and off, Steve Morgan would drop by and record stuff with me. By then, I had quite a lot of equipment at home (some of it was his).

Little Steve and I did two strange noise-songs : Shooting Gallery and Submarine which are interesting experiments into ambient/ asynchronous music. I was concentrating on ethereal sweeps and resonant pings on the SH-101 synth but Steve was happily messing randomly. It wasn't happening so we decided that we'd record them immediately after visiting the local pub (ahem). Fortunately, it worked! BTW, the "kaboom" at the end of Shooting Gallery is the reverb falling off the table & hitting the floor.

All the time I've known Little Steve, he was always very good at coming over to visit me. Nearly always, it'd be to record some of his songs or sometimes just with a few rough ideas. And I was always more than glad to play guitar or make weird drum-patterns!

In 1984, Steve Morgan decided to do a re-production of our old song, Gloss On Gloss. This Gloss On Gloss 2 version was recorded at his flat in Duckett Street and I recall doing the guitars at 3:00am. The whole song ended up as pretty damn cool actually… thanks to Little Steve's production skills!

It was almost a whole year before we played again. On 1/May/1985, Little Steve came over for a whole day's jam session. In our playing, we both felt a new and different musical connection. Perhaps it was just angst… or maybe because we hadn't played for so long.

Anyway, there are two extracts from the jam session and I've named them "Breaking Away" and "Messin' About" (where Messin' About is actually 2 song ideas joined together).

I'd like to think of them as marking a new direction for our music. In a sense, these songs also represent the closing chapter of an era that started with the Immortal Ghosts.




• Shooting Gallery • 3:14 1983'Q4 ambient 381KB 16kHz 16Kb/s
• Submarine • 4:18 1983'Q4 ambient 506KB 16kHz 16Kb/s
• Gloss On Gloss 2 • 3:08 1984 inst 845KB 24kHz 24Kb/s
• Breaking Away • 3:00 1985May01 jam 353KB 16kHz 16Kb/s
• Messin' About • 6:20 1985May01 jam 744KB 16kHz 16Kb/s
1983'Q3 ~ 1985'Q2 - All music by Steve Morgan and Yahaya Abdullah (except Gloss On Gloss 2 original song by Bruit Du Soir/ Autant).


When I started working, I promised that I would always put music first and that, somehow, I would make time for composing. But the reality is that a working career leaves you with no time for anything else. I don't know if I could have found more time for music. I'm not daydreaming about "what could have been" or anything like that… I'm just saying that we all have to make time for our dreams… and I didn't!
next page ~ Pulse-8
---
Top of Page • Back to Main Page • http://yala.freevar.com/immortal/working.htm